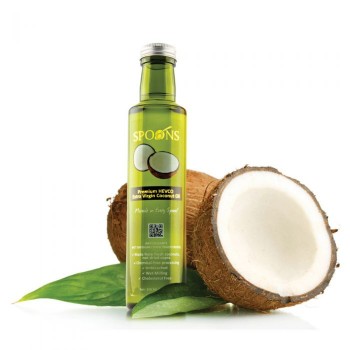 Coconut Oil
Coconut oil contains 2.6 percent fewer calories than other fats. It has been said to provide various health benefits.
Here are a few of them:
Increasing "good" cholesterol: A component in coconut oil has been found to give "good" HDL cholesterol "a nudge."
Controlling blood sugar: It appears to preserve insulin action and insulin resistance in mice.
Reducing stress: It has antistress and antioxidant properties, which could make it useful as an antidepressant, according to research in rodents.
Shiny hair: It makes hair shinier, because it penetrates better than mineral oils.
Healthy skin: It has been found to enhance protective barrier functions and have an anti-inflammatory effect on skin in humans.
Preventing liver disease: It has reversed hepatosteatosis, a type of fatty liver disease, in rodents.
Reducing asthma symptoms: Inhaling coconut oil has helped reduce asthma symptoms in rabbits.
Fighting candida: Coconut oil has reduced colonization with Candida albicans in mice, suggesting it could be a treatment for candida.
Improving satiety: One argument has been that coconut oil leaves people feeling "fuller" after eating, so they will not eat so much. However, other research has shown that this is not the case.