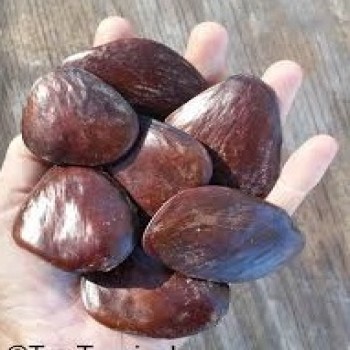 Pentaclethra Macrophylla (African Oil Bean)
Buy Pentaclethra Macrophylla (African Oil Bean)
Pentaclethra Macrophylla is also commonly known as an African oil bean. The African oil bean belongs to the Plantae kingdom and comes under the Fabaceae family. Thesetrees are found in the forest tones of Senegal, eastwards to Sudan and south towards Angola. The trees are large with long compound leaves. To describe a tree, it can grow up to 36 meters tall, and Leaves can grow up to 45 cm long. The Pentaclethra Macrophylla is a multipurpose tree that is endemic to the humid and some parts of the sub-humid zones of west Africa. The tree is grown where the rainfall is good, and the annual temperature should not be less than 18oc.
How Will We Use It?
In Nigeria, a soup named Ugba is made with seeds of the prepared and fermented species. The extracts of the leaf, fruits, stem bark have anti-inflammatory and anthelmintic activity, which treat convulsions and gonorrhea. Crushed seeds are being given to acquire an abortion. From the bark, a lotion is made, which is used as a wash on sores. A laxative is made from the root -bark.
African bean oil contains seeds. These seeds contain 30 - 36% oil. The oil is used for the production of owala oil. The oil is used in soap and candle production. From these trees, wood is extracted into different works. When the wood is available, it is used for making railway sleepers, fencing, wheel work, and general carpentry work. For wounds and soures, a decoction is made bark to apply. One may think about where to buy African bean oil. You can order it online.
Conclusion:
We discussed the plant Pentaclethra Macrophylla, its common name, and its family. We have seen how it has been used for many aspects; not only that but also in Nigeria, it is used as traditional medicine. One will be thing how can we get these medicine we can order Pentaclethra Macrophylla online.