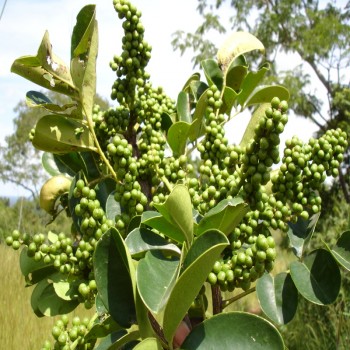 Fagara Zanthoxyloides
Buy Fagara Zanthoxyloides Online
Fagara zanthoxyloides, often known as Senegal prickly-ash or artar root, are Zanthoxylum species. Isomeric divanilloylquinic acids are found in the plant (3,4-O-divanilloylquinic acid or burkinabin A, 3,5-O-divanilloylquinic acid or burkinabin B and 4,5-O-divanilloylquinic acid or burkinabin C). F. burkinabensis root bark contains burkinabin C, a type of hydrolysable tannin. zanthoxyloides. Fagaronine, a benzo phenanthridine alkaloid, is also present. Malaria, Elephantiasis, Toothache, Sexual dysfunction, Gonorrhoea, Dysmenorrhoea, Abdominal pain, and other disorders are all treated with Fagara Zanthoxyloides.
More information about Fagara Zanthoxyloides:
The Rutaceae Fagara zanthoxyloides (Lam.) are widely dispersed in Uganda and other African countries. It's well-known for its numerous applications in traditional medicine. Elephantiasis, toothache, sexual dysfunction, gonorrhea, malaria, dysmenorrhoea, and abdominal pain are all treated with the root-bark extract. Workers in West Africa have documented the anti-sickling and antibacterial activity of the plant extracts. F.zanthoxyloides is utilized as a chewing stick in Nigeria. Water extracts from the plant were found to have antibacterial activity against microorganisms linked to periodontal disease. The anthelmintic activity of a methanolic extract of F.zanthoxyloides root-bark was also reported, and it is a widely used anthelmintic among Uganda's numerous tribes. The alcoholic extracts of the root-bark have also been discovered to have significant antibacterial action. The plant yielded an anti-sickling compound and an anti-inflammatory amide. Check out the online stores to buy fagara Zanthoxyloides; they are considered best for medicinal plants and other related products. The products are on sale, so you'll get them at affordable prices.
Where to buy Fagara Zanthoxyloides online?
Through E-shopping, you can order Fagara Zanthoxyloides online. We provide the fastest delivery with quality products. Apart from that, Fagara Zanthoxyloides for sale are also available.
Conclusion:
Fagara Zanthoxyloides is an array root with multiple uses.