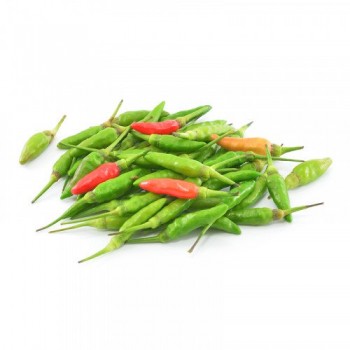 Bird Eye Chilli
Buy Bird Eye Chilli Online
Bird-eye chili, commonly known with other names such as bird's chili, thai chili, cili padi, is a chilli pepper that belongs to the golanaceace family. We can commonly see the plants in Ethiopia and across southeast asia. The scientific name of the bird eye chili is capsicum frutescens. We can describe it as a perennial(which means it lives more than two years). The fruits of the plant are very pungent. These days, all chillies are in Mexico, Central America, and South America. These are widely used in cooking dishes to add more spice or spice up the food. The bird-eye chili has other compositions apart from capsaicin: vitamin B2, vitamin C, minerals, protein, iron, and more.
Benefits of Bird Eye Chilli:
There are many benefits from bird eye chili, but I have been specifying some of the benefits related to health issues of the human body. Apart from this, as I mentioned above, it helps add spice to dishes. We can buy bird-eye chilli online.
Digestion: for those suffering from digestion problems, Bird eye chilli helps improve digestion by increasing the production flow of enzymes and gastric acid.
Anti-cancer: The chilies present anticipate cancer by removing from our body without risking the healthy cells.
Maintains immunity: The bird eye chili contains vitamin C, which improves the immunity in the body and protects us from various health problems.
Where to buy Bird eye chilli Online?
Nowadays the technology has been very developed. You can find these nowadays in the general market, and you can buy bird eye chilli online.
Conclusion:
To conclude about bird eye chilli, we have been discussing how it is useful and how many aspects we can use it especially in medical fields; it can also help in improving heart performance, reducing fungi on the skin, maintaining eye health, increasing saliva production and encourages hair growth these are some concept we have discussed.