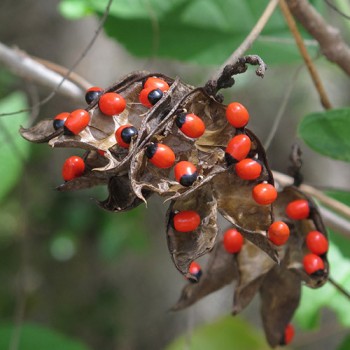 Abrus Precatorius
Buy Abrus Precatorious Online
Abrus precatorious is commonly known as rosary pea. Abrus precatorious belongs to the Plantae kingdom and comes under the Fabaceae family. It is a native plant to India. We can find these plants in all tropical countries. The common name of the plant according to different countries is rosary pea( Egypt), Precatory bean (USA), Saga (Indonesia), Gunchi (Pakistan), Rati Gedi (Nepal), Jequirity (Philippines), Weglis (Indonesia), Crab's eye (Nepal). The leaves of the plant look glabrous with long internodes. The fruit of the plant looks flat, and it is a pod—the flower of Abrus precatorious looks short in pale violet color.
Benefits of Abrus Precatorious:
The plant is used as traditional medicine. A tea is made with leaves to treat fever, cough, and cold. In India, they use the roots of this plant as a substance to make liquorice (it helps in the digestion system. black licorice works more effectively for digestion and clears the problems like heartburn, ulcer, and indigestion). For reducing swelling, with the help of honey and leaves, they apply it in the place of swelling. We can order Abrus precatorious online. The seed's weight of the plant is very consistent in any condition. So, in ancient and olden days, Indians used it as a weight to gold where it was called Ratti. 8 Ratti = 1 Masha, 12 Masha = 1 tola. It means if 96 Ratti weighs as one tola gold. The leaves powder is used to treat urinary problems. For stomachache, the pain will be reduced by taking 100g of plant seed with honey or butter for relief. Abrus precatorious Traditional medicine is used to treat tetanus and prevent rabies. The medicine is also used for scratches, wounds, and sores caused by dogs, mice, and cats. Where to buy Abrus precatorious online? We can order it online, and we can get it in the general market.
Conclusion:
To conclude about this plant, Abrus precatorious, we have discussed its uses and how it looks. The seed of the plant was used as jewelry in the olden days.