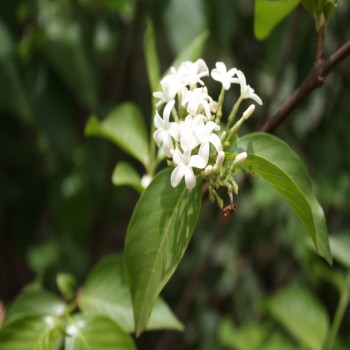 Holarrhena Floribunda
Buy Holarrhena Floribunda Online
Holarrhea Floribunda, commonly called false rubber tree or kurchi bark, is a plant category that belongs to a family of Apocynaceae. It is also an ornamental shrub with shining foliage and white flowers. Holarrhea floribunda mainly matures in the form of a shrub or tree which reaches upto a height of 25m, whose stem diameter is about 30cm. The colour of the fruits of this tree varies from pale grey to deep brown, which reaches upto a height of 60 cm.
Distribution:
Holarrhena floribunda is a tree found in various habitats at a height ranging from sea level to 1000 metres. It is a plant native to various areas of West and Central Africa. It is an attractive tree with large fragrances, white flowers, and ornamental purposes in mainly dry western African counties.
Benefits:
Holarrhea floribunda is a traditional medicine that is mostly used for the treatment of various diseases given below:
Treatment of dysentery

It also cures diarrhoea

Heals fever, snakebite etc

Treatment of infertility malaria

Cures venereal disease and diabetes

It is sometimes used as an enema to treat skin infection

It is also used as an enema against pain in the kidney

To make a remedy for dropsy
Where to buy Holarrhena floribunda online?
Suppose you want to buy various products made of Holarrhena floribunda. In that case, it's better to buy Holarrhena floribunda online because the best websites sell their product at a reasonable rate of the best quality. The best websites are Amazon, Flipkart, etc. are some of the top-notch websites where these specific products are available for sale at the maximum time and can reach upto your doors without going anywhere.
Conclusion:
It is very popular for medicinal purposes. This plant is directly used as an enema at snakebite spots in rural areas. If you want to use supplements of this plant for any of the benefits mentioned above, you can consult with any health caretaker.